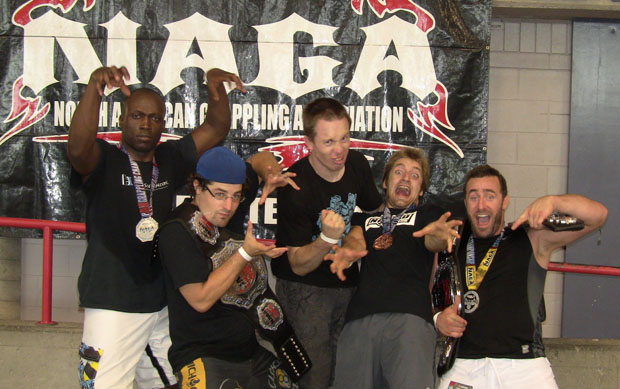 We had a good time in Montreal this weekend, competing at the NAGA Montreal Grappling Tournament. They ran an excellent event with about 10 mats. The competition went very quickly with very little downtime.
Our team included the following members:
Dominic Côte
Mistral Gedeon
Guillaume Lacerte
Benoit Sinave
Dominic Côte
Dominic competed in both Gi and NoGi, and won the gold medal and a giant belt in both.
He won the NoGi final with a triangle choke from the guard after being taken down.
He won the Gi final on points, after attaining top position, spending most of the time in the half guard. His opponent got into a couple good sweeping positions, but wasn't able to gain back any point advantage.
Great work Dominic!
Mistral Gedeon
Mistral competed in the Advanced NoGi division. He won his first fight with a guillotine choke, and lost his second match to Olivier Aubin-Mercier, a talented grappling competitor and Ringside MMA champion.
Mistral recieved a silver medal! Awesome work!
Guillaume Lacerte
Guillaume competed in both Gi and NoGi that day. He had a total of 4 matches that day.
In NoGi he won his first match on a judges decision, lost his second via rear naked choke, and won his third with a slick armbar from the mount.
Guillaume did an excellent job listening to instruction and won a bronze medal for his efforts!
Guillaume also went in the Gi division for the first time, and unfortunately lost his match on points. He was excited to try out the Gi, and is looking forward to competing in it again in the future!
Nice work!
Benoit Sinave
Benoit went straight to the final in the NoGi advanced division. Gaining quite a lead point wise, in the last minute of the match he decided to really go for the finish, and locked in a sweet guillotine choke from knee on stomach. It did not look like much fun for the other guy.
Benoit received a nice sized belt for achieving first place.
Great Stuff!
Everyone did an awesome job, and had a lot of fun doing it. Can't wait for the next time NAGA comes to town, so we can bring Nomad out again!
If you are interested in watching videos of their matches click the following link!
NAGA Grappling Tournament, Montreal Qc – Video Gallery