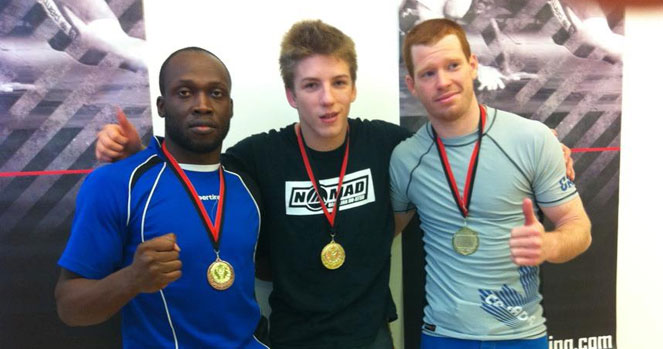 We had three teammates compete at the 514 Grappling Open in Montreal on November 20th, 2011
Each fought really hard, and walked away with a Medal!
Mistral Gedeon – Bronze Medal
Louis Bernard – Desrosiers – Gold Medal
Maxime Poulin – Gold Medal
Mistral Gedeon
Under 75 kg
In Mistral's first fight he dominated quite well up until the very end, when his opponent attempted a leg lock. Mistral managed to escape and transitioned into a Kimura lock of his own as his opponent got on top. Unfortunately the clock ran out with his opponent managing to win buy points attaining the top position.
Mistral then went on to compete for third place. In this match he attempted a very close Kimura. His opponent managed to get out. But in the end Mistal took his opponent down with a double leg and transitioned to mount. This allowed him to win the Bronze Medal on an advantage. Good Work Mistral!
Louis Bernard-Desrosiers
Under 73kg
In Louis's first match he pulled butterfly and quickly slapped on a Guillotine Choke. He used this to elevator sweep his opponent and then transition to a Darce Choke for the win!
In Louis's second match he pulled guard once again and his opponent attempted a Flying Triangle over his guard. Fortunately it missed and Louis got on top. Louis then transitioned into his opponent's half guard where he locked in a Guillotine Choke and finished it from the bottom.
Louis's third match started with a warning for pulling guard. So they stood up and his opponent pulled guard instead. Louis went into his opponent's half guard and wrapped up another Guillotine. They exchange positions top and bottom a few times, and Louis flowed into a Triangle Choke for the win and the Gold Medal! Great Stuff!
Absolute
In his first match he attacked hard for Triangles and Sweeps, but eventually his opponent slipped into a kneebar and finished Louis. Better luck next time.
Maxim Poulin
Under 75kg
In Max's first and second match he dominated with sweeps and guard passing before finishing with a rear naked choke!
Max won his third match by scoring a sweep early in the match, which won him the gold medal!
Absolute
After winning his first match by submission, Max went up against a tough opponent, whom he managed to dominate with a few sweeps and guard passes. But at one point this leg lock expert caught Maxim in a toe hold and took him out of the competition. Oh well.
Good work everyone. Looking forward to seeing you compete in the next tournament!
Great job guys!
Richard Martens
Nomad Brazilian Jiu-Jitsu